By: Leila Alcalde
The purpose of this article is to encourage other people to be horticultural therapists and to use plants and gardening to improve people's well-being, because we can make the difference.
In Spain, my country, interest in horticultural therapy programs is still emerging. For that reason, in 2018 I co-founded the Spanish Horticultural Therapy Association hoping to raise awareness of its enormous benefits to different population groups. We offer short courses, participate in conferences and workshops, study the situation of each horticultural therapy program in the country, and give advice and support to some interesting projects. The road is long, but we feel very passionate about it. Our mantra is "we grow at nature´s rhythm"
I grew up in a small city located in the northwest part of Spain, where nature is basically everywhere. The area is surrounded on one side by the Atlantic Ocean and on the other side by hills, mountains and forest.
When I was around 10, I remember playing with my friends in a nearby forest close to my father's house. We were trying to find  "paradise" riding our bikes through the forest. One day, when I was alone, I decided to explore the forest by myself. That day I found paradise. That image is still stuck in my mind. The sense of achievement, the scents, the colours, the sounds, the sun…what a feeling! I was so excited to tell my friends what I had discovered, so I took them next time. What was paradise for us? A glade of grass and wildflowers with a water creek running across the field, surrounded by trees. That forest is part of our lives. We grew up there playing hide and seek, cooking leaves, discovering insects, having our own girls' tree (the boys didn't allow us to use theirs which was bigger), wandering around, harvesting berries during summer time. Also, the Atlantic Ocean and the beach are part of my life. I think I have spent more hours in the sea than fishes! All good memories.
When it was time to go to University, I wanted to study something related to the environment so, I got a degree in Land-Based Engineering in 2005. I specialised in horticulture, landscape and gardening. In one of the landscaping classes, the teacher talked about designing a garden for visually impaired people, and that was a turning point for me. I had never heard about Horticulture as Therapy until then. I worked in plant production and other different projects. Always feeling lucky to work with and in nature, despite weather conditions. Valuing being outside, hearing the birds, smelling the scents of the flowers, always learning new lessons…  Time went by and I moved to the UK where I finally studied Social and Therapeutic Horticulture, because in Spain until now there are no official courses or university degrees in this field.
I spent a year immersed in the horticultural therapy world, reading, studying, learning and writing. At the same time I started volunteering in a garden project working with adults and young people with additional support learning needs, physical mobility difficulties and mental health issues. I have also helped groups of elderly with early stages of dementia and Alzheimer's. It was great to discover how meaningful activities in the garden can make an impact on the quality of life of this population group.
One of the sweetest stories I recall was a lady with Alzheimer's who took part of the eight-week gardening program, funded by a local charity for the elderly. The group attended the garden once a week for three hours. During that period of time they tended the garden, contemplated the garden, enjoyed a cup of tea and chatted with peers. This lady wasn't interested at all in garden activities, she always wanted to go back home after a while most of the days, but we encouraged her to enjoy the garden. I still remember her reaction when she saw the tray of lettuces that she had sown two weeks before. She couldn't believe her eyes! She became very emotional! When we were close to the end of the eight sessions her family was willing to pay for more sessions as they could see how gardening had boosted her wellbeing. Just attending one session per week, she was able to socialize, spend some time outdoors and reconnect with her memories. Before attending the program she lived in a nutshell, after two months her mind was active again.
In 2017, I got my first job as an Occupational Therapist Assistant, working with adults (18-65 years old) with mental health issues and learning difficulties in a mental health rehab unit, where there was a garden with three raised beds and a polytunnel. It was an ideal location for a horticultural therapist! I must confess that it took me some time to convince my colleagues (psychiatrist, psychologist, nurses and healthcare workers) that I wasn't just entertaining patients. It was more than that.
Patients are referred to this hospital for their social inclusion. Most of them were in treatment for more than five years, few even more than 15, in different hospitals. Some of them were referred from prisons. Because they have spent so many years in treatments and therapies, our job was harder motivating them. The goals of our gardening program aimed to enhance: independence, responsibility, creativity, routines, math skills, budgeting, and so on. I also focused on improving their lifestyle habits by promoting physical activity, and introducing them to fresh vegetables and fruits. Most patients with severe mental health issues were obese as a side effect of medication, a poor diet and a lack of physical activity.
The gardening program was based in a small building in the garden, attached to the hospital, where the patients loved to go for a chat. It was their time to be "far" from the ward for a while, their sanctuary. Being outdoors in the garden, invited them to share their feelings and thoughts. They socialized and felt less isolated. Some of them weren't actively involved in gardening activities but appreciated and praised the hard work of their peers. Together we improved the entire garden area, flower and vegetable beds, and fed the birds (squirrels as well), all of which attracted wildlife in the garden … it was heaven!
The hospital is in a small village and the neighbours were not happy with its presence. They had a very negative idea about the hospital and its patients, so part of my job was to develop strategies to reduce that stigma. We worked with the local parish council in order to keep and maintain the hospital's surroundings. I remember one person, a neighbour, passing by clapping his hands and saying "thank you" when we were planting new flowers. We also sold part of our garden produce (everything was organic) to the local hotel and all the money we earned was invested in our garden. I also asked my colleagues to donate unused gardening tools in order to get them involved. We decorated the hospital's entrance with pots so that everyone could see them. The patients took on the role of picking up litter as part of the onsite Real Work Opportunities. All these actions helped to reduce the amount of neighbours' complaints.
I can happily say that all the patients I have worked with have left the hospital asking to live in a place with a garden or keep growing vegetables. These outcomes make you value being a 2018_ Co-founder of the Spanish Horticultural Therapy Association. For more information go to www.vitaminaverde.es
Today, throughout Western Europe, Green Care Farms are a developing an innovative care concept that recognizes the importance of the psycho-social needs and quality of life for participants.  Green Care is an umbrella term used to describe a broad spectrum of health promoting interventions that all use both biotic and abiotic elements of nature.  Therapeutic programs that are currently considered green care programs include animal-assisted therapy, horticultural therapy, wilderness therapy, care farming, and green exercise (Sempik, et al. 2010).
Generally, green care programs provide day care/rehabilitation for individuals with dementia, developmental, intellectual and physical disabilities.  This care concept has also been proven successful for those battling addiction and mental illness.  Participants spend much of their day outdoors in a plant-rich environment.  They have many opportunities to freely interact with each other as well as with workers and caregivers at the site.  The natural environment encourages participants to be more physically and socially active.  Working with plants and sometimes farm animals, provides a sense of purpose and empowers the participants to take the role of caregiver instead of "patient".  This concept has been especially successful for people dealing with dementia, in part because personal caregivers and family members are encouraged to be part of their loved one's treatment.
Green care offerings at day care facilities for various populations is slowly gaining interest here in the US.  From the description above, one can easily envision how horticultural therapy would greatly contribute to this creative approach to wellness.  A progressive program through University of Washington Memory & Brain Wellness Center is embracing green care interventions with Garden Discovery Walks offered to those with dementia and their care partners in the Greater Seattle, Washington area.
Laura Rumpf, HTR  is a registered horticultural therapist and HTI graduate, currently living in Seattle.  Laura conducts the monthly Garden Discovery Walks in conjunction with the University of Washington Memory & Brain Wellness Center and Seattle Parks & Recreation.  This is a free program for those with memory loss and their care partners.  The primary purpose of the program is to provide a sense of community and socialization that mitigates isolation and anxiety.  Laura points out an important aspect of Garden Discovery Walks, "This program is as much for the care partner as it is for their loved one."
Garden Discovery Walks occur from March through November at a different public garden space within the city of Seattle.  Fifteen participants and their care givers enroll through Seattle Parks & Recreation.  A typical session involves two elements; first, a mindful stroll through a garden, taking the time needed to enliven all five senses.  Laura sets a specific theme for each walk, for example, cherry blossoms in March.  And second, as they finish the garden walk, the group gathers for a horticultural activity.  The activity reflects the experience of being in the garden, thus entwining both parts.  Each participant can take home their garden creation as a reminder of their experience.  Because Laura recognizes the benefit to the care partner, she makes sure they also can engage as well.  "Care partners almost always do their own project, independent of that which they help their loved one do.  When I see care-partners get into a flow state while deeply involved in their work, I encourage that by engaging with their loved one so that they can fully gain the benefits of this state".
This innovative program, the only one in the country to offer dementia friendly recreation, is becoming quite popular.  "The response to Garden Discovery Walks has been so good that people wanting to join are on a wait list.  We are exploring ways to expand the program and to adapt it to a population who may need more support to access it."  The biggest challenge to expanding the program is finding an acceptable site that meets specific criteria: transportation needs of the participants, safety, wide pathways, a covered or indoor area with tables for the activity and socialization, and an accessible bathroom on site. Because the participants are coming from several different locations and are involved in other programs, scheduling can be complicated.
Laura is involved in other Seattle Parks & Recreation programs at Rainier Beach Urban Farm and Wetlands (RBUFW).   RBUFW is an eight-acre farm located in the heart of Seattle.  The property is managed by the Tilth Alliance and owned by Seattle Parks and Recreation, where programs are offered to community members of all ages and abilities.  Classes offered at the farm range from permaculture and organic gardening techniques to educator workshops and summer garden camps for children.  One group Laura has been involved with are the East African Elders, who for the last decade have been working to restore the farms wetlands.  In exchange, the group receives a stipend plus fresh produce.  More importantly are the mental health benefits that comes from social interaction with other immigrants who share the same language, transportation and economic barriers.  "It goes without saying that everyone who participates on the farm gains the benefits of physical exertion and fresh air."
The Bridges Program serves high school students with developmental disabilities along with their teachers and aides, to RBUFW each week.  Laura has worked with this program since September 2018.  "I work toward their goals of social skills, vocational skills, and sense of self esteem by engaging them in farm production tasks."  Laura collaborated with the teachers to develop a list of primary goals and objectives for each student.  The students present a wide range of abilities; therefore, garden tasks must be adapted to ensure everyone believes they can participate.  Students also have the opportunity to interact with others who work at the farm, "This has been an important component in the program, using appropriate social skills when greeting or interacting with others outside the group, but in a safe and non-judgmental environment".
Laura would like to see horticultural therapy programming expand at RBUFW, "I would love to see the farm act as a hub for various groups for whom HT would greatly benefit.  Groups that I have proposed are those with dementia, immigrant elder women (currently very underserved), care-givers, tech workers and those in the surrounding neighborhood who could benefit from self-empowerment."  Laura is very aware of her significant relationships with both University of Washington Brain & Wellness Center and Seattle Parks & Recreation, "[They] have been very important, not only for employment opportunities but to the promotion of HT.  They have platforms, not available to me, on which they have advertised, highlighted and endorsed these programs and HT in general.  This partnership is so important to the HT field and I believe can be replicated across the country".
Considering the programs described, one can see similarities between green care and the practice of horticultural therapy.  This is not to say they are equivalent.  Horticultural therapy is a distinct profession. Therapeutic techniques and treatment processes among disciplines are often interchangeable and depend as much on the type of program and setting in which the program occurs as the specialty of the therapist applying them (Haller & Kennedy, 2019).   As stated earlier, "green care" is seen as an innovative care concept.  Central to this concept is the setting/location where health promoting interventions occur. What remains unclear is how goals and objectives of treatment are determined or how outcomes are measured.
Laura Rumpf has favorably combined aspects of green care (involvement of the care partner and conducting sessions at an urban farm) with the time honored and evidence-based practice of horticultural therapy to produce solid and effective programming with a broad outreach.  Her collaboration with University of Washington Memory & Brain Center along with Seattle Parks & Recreation has not only made these programs possible but has ultimately created public awareness and promoted the practice of horticultural therapy.
*Due to the COVID-19 pandemic, the Discovery Garden Walks have been cancelled and the public parks are closed to visitors.  But the Discovery Garden Walks do continue each month with video recorded versions.  Below is a link to the March Discovery Garden Walk through Bradner Gardens.
https://www.youtube.com/watch?v=YO08QHC-uv4&feature=youtu.be
References
de Boer, B., et al. 2015, Living at the Farm, Innovative Nursing Home Care for People with Dementia-Study Protocol of an Observational Longitudinal Study". 2015, BMC Geriatrics 15:144.
Haller, R. L., Kennedy, K., L., Capra, C. L. 2019, The Profession and Practice of Horticultural Therapy, Boca Raton, FL., CRC Press.
Hassink, Jan, et al. 2019. "Characteristics and Challenges for the Development of Nature Based Adult Day Services in Urban Areas for People with Dementia and Their Family Caregivers".  International of Journal of Environmental Research and Public Health 16, (1337).
Sempik, J., R., Hine and D. Wilcox, eds. 2010. Green Care: A Conceptual Framework, A Report of the Working Group on the Health Benefits of Green Care, COST action 866, Green Care in Agriculture. Loughborough, UK: Center for Child and family research, Loughborough University.
For several years I have been following Karthikeyan's Vijayakumar, founder of Horticultural Therapy Healing Centre (HTHC) in Bangalore, India, work in India offering horticultural therapy programs for Children with Autism Spectrum Disorder and children with special needs. As many of us are doing in other parts of the world, Karthikeyan is raising awareness in India on the many benefits horticultural therapy programs have for many population groups.
I want to share with you his valuable experience with children with autism. (Introduction by Daniela Silva-Rodriguez)
When we see a child nurturing a plant we feel moved, and when an extraordinary child (Autistic), nurtures a plant, it is magical! I have been working with special-children since 2010, mainly autistic children. I have experienced this magic many times when I see an autistic child nurturing a plant as if it were another child or a friend, it leaves you speechless! That is another reason why I love plants more and more nowadays.
When working with the elderly, especially those who do not have any nature connection, we need to teach them how to approach a plant. But with children teaching is not necessary, they learn by themselves. Once the bond is created, everything happens automatically. They talk to the plant, share their emotions with them, play with plants, and start considering the plants not as objects but as living creatures, and relate with them as with a friend. Yes, they do all this without any training. Gardening activities restore happiness in their life.
In my horticultural therapy practice I use many tips and tricks with these children, they work great with them. When a child starts showing aggression, soil-related activities such as making "soil truffles" helps me calm them. Sometimes smell can be used to distract the mind, or watering a plant with a diffuser. They learn about empathy by caring for a plant. A very important issue when working with autistic children is to design activities according to their needs.
Most children, disregarding age or ability, likes to play in the mud. But unfortunately, many parents do not allow them to play with mud. Their major concern is that their child could get an infection or a disease. Part of my work with parents is to talk to them about the proven benefits of playing with mud. I find that playing with mud is one of the best exercises for children, especially autistic, to restore their peace of mind and stimulate their senses.
It is easy to train a child, who has a bond with nature, in areas such as communication skills, life skills, cognitive skills, and sensory skills. Children are always curious to know what is happening to their surroundings. Even if they don't make eye contact with you, their observation skills are pretty sharp. They can observe each and every small change happening in them. This is why they have immediate reactions.
Sometimes we can't figure out why they are getting irritated or aggressive or having tantrums. These are all sensory issues, which can be controlled or reduced by exposing the child to the outdoors on a regular basis. Whenever they are outdoors, all their senses awake, they will start adjusting themselves with an unusual noise, or fragrance, or texture, or taste or any other natural stimulants. In this way they will gradually control their emotions in their day-to-day life.
I would like to share some interesting cases:
CASE 1: One of my children with autism had trouble with his fine-motor skills. His hand-grip was very poor, he could not fold his fingers properly. We started providing sponges for watering the plants (physiotherapy adaptation). He enjoyed the activity so much that he was willing to repeat it in every session. After a few sessions, we noticed that his motor skills were much better than when he started. He started holding things with his hands like a pen, spoon for eating, brush for painting, and a pencil for drawing. Nowadays he is a child with lots of enthusiasm and curiosity.
CASE 2: An eight-year-old boy with autism, who always wanted to be outdoors. He loved to do all kinds of gardening activities. The first time he came to our center, he wanted to run around the garden to do whatever he wanted. He smelled flowers, picked leaves, watered plants, removed weeds, potted plants and many other chores. He showed his love towards animals and was very talented drawing them. His skills were enhanced whenever he was outdoors more than indoors, as well as his behavior.
CASE 3: Another 17 year-old  boy with autism, non-verbal, with serious sensory issues and aggressive behavior. We could not predict when he would loose control of his emotions. We started with olfactory stimulation, but it didn't make much of an impact on him. Then we tried soil-related activities like soil mixing, media preparation, and soil loosening. He loved it. Those activities helped him gain control over his emotions and calmed him. He was very happy doing those activities to the point were he even started to murmur sounds and letters. Nature's magic works for everyone!
CASE 4: A 16 year-old boy with autism and ADHD, with aggressive behavior. His mother told me that every day, at around 1 pm, he became violent. This happened during prayer time in a nearby mosque. She believed this was happening because of some ghost scourge. I tried to explain to her that those violent episodes were sensory issues related to his Autism Spectrum Disorder. But she was not ready to listen to me. I asked the mother to bring his son at the same time every day and I promised her I would take good care of him. The plan for the first session was as follows: Set a video recorder and provide horticultural therapy activities one after the other, expecting he would have a violent outburst.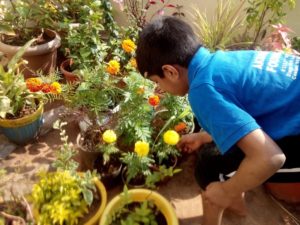 Close to our office is a mosque where prayers start at 12.45 pm. When prayers started, the boy was so focused on the HT activities he was engaged in that he did not "hear" the prayers! That was one of the best sessions I had with that boy. When I showed the video to his parents they were shocked to see his engagement in HT activities without experiencing violent outbursts.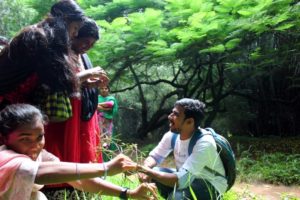 After so many years working with this population group it has become clear to me the importance of designing a specific program for each autistic child. Just engaging them in gardening activities does not give you good results. It is a combination of several factors that produce changes like: empathy, attitude, as well as the approach we have towards plants.
My HT program for this population group is the following:
Initial assessment
Meeting with parents to explain the scope of the treatment plan
Goal identification
Selection of suitable assessment scales and frequency of assessments
Design a specific program
Program implementation
Horticultural Therapy can do wonders for these children! We help them connect with plants and nature, create a bond between them, and give them permanent support with the specific activities designed for them.
The three main areas in which horticultural therapists working with this population group should focus are:
Distraction
Refocusing
Rejuvenation
All gardening activities should include at least one of these focus areas.
Our horticultural therapy program for children with special needs considers three phases:
Therapeutic phase: Focused on physical enhancement and mental fitness
Social Phase: Promotion of social interaction and communication
Vocational phase: Vocational skills-based training in horticulture
When a special child joins our program, he/she will go through all these phases. After the initial assessment, the child will start the therapeutic phase. In this phase, we address all the physical and mental issues the child is facing. Using various horticultural therapy activities as facilitators, we help the child control his/her physical, social, emotional, psychological and communication difficulties. Once they can handle their issues, they will move to the social phase. In this phase activities mainly focus on improving their social interaction and communication. The child participates in group activities and discussions. Once they feel comfortable with social interaction they move to the vocational phase. In this final phase the child will choose one or two horticultural skills in which they would like to master.
Every autistic child has his/her own areas of interest. It is our role as horticultural therapists to find out which are those areas of interest for each child, nurture them and help them master them, promoting independence and autonomy. If we have a child who does not like gardening or horticulture, we can teach them to use horticulture/gardening or nature-connection as relaxation strategies. So whenever they need support, they will consider plants as their best friends!
Karthikeyan Vijayakumar
Founder of Horticultural Therapy Healing Centre (HTHC), Bangalore, India.
BS degree in Biotechnology from M.S. University, Tamil Nadu, India
Master's degree in Biostatistics from M. G. University, Kerala India.
Horticultural Therapy expert. Conducted a Horticultural Therapy project at Kerala Agricultural University as a Research Associate
In 2010 he started a Horticultural Therapy Program for mentally and physically challenged children in various schools in Kerala, India.
2018 –Founded the Horticultural Therapy Healing Center (HTHC) – focused on training professionals in horticultural therapy and serving various population groups through HT
Publications
Book: "Herbal Gardening Heals: A manual for Horticulture Therapists" – 2006 – Foundation for Revitalisation of Local Health Tradition (FRLHT), Bangalore, India
Research papers:
Title of Article: "Smell as an Emotional Stimulant in Horticultural Therapy: Lessons from Activities Conducted for Orphanage Children in Bangalore" – 2017 – The International Journal of Indian Psychology
Title of Article: "Horticultural Therapy Activities Reduce Stress Levels: Lessons from Activities Conducted For Adults in Bangalore" – 2018 – International Journal of Science and Research (IJSR)
"My dorm is like winter, dark and cold, and this class is like spring.  Not all plants make it through the winter, but with the help of this class, I will make it to spring".
-an Insight Garden Program participant at Avenal State Prison
The United States has the highest per-capita incarceration rate in the world, surpassing any other nation.  Currently, more than 50 percent of former inmates will re-offend within three years. The estimated burden to the American taxpayer is more than $80 billion annually.  Could horticultural therapy, as the foundation of a rehabilitative program, curtail the rate of recidivism and reduce the human cost of incarceration?
Prison reform in the US has become politicized in recent years.  Two sides of this issue have emerged, punishment vs rehabilitation.  Punitive reform has been the focus of the US prison system since the 1970's.  Prisoners who suffer from stress related illness, have insufficient job skills and few support services to navigate the transition of re-entry are being released back into society.  Scandinavian countries take a different approach, one of rehabilitation and "normalization".  The outcome has been the successful release of prisoners, who are adequately equipped to re-enter society, thereby lowering the incidence of re-offending.  Today, Norway has the lowest recidivism rate in the world, at 20 percent.  A more humane approach to incarceration is obviously working.
Multiple research studies have been conducted, regarding which rehabilitation programs are most effective in preparing incarcerated individuals for re-entry.  Not surprisingly, horticultural therapy has been documented as a proven pathway to psychological and physical well-being for inmates.  In addition, educational and vocational rehabilitation goals can be easily integrated within horticultural therapy.
Today, 15 states offer courses in horticulture, landscaping and master gardener training to inmates.  One such program is the Insight Garden Program at Avenal State Prison in Avenal, California.  Calliope Correia, an HTI graduate, has been involved with IGP at Avenal State Prison (ASP) since its inception in 2017.  Calliope admits, she has worked with a lot of people and a lot of different populations providing HT, but never considered working in a prison setting.  Yet, after attending an initial meeting to learn about how IGP operates, she was hooked.  "The idea of creating beauty in a very harsh environment drew me in.  The program was centered around the belief that by growing a garden and learning about the natural world, one can grow their inner self and their being".
Avenal State Prison is a medium security institution for men, located in a small, farming community southwest of Fresno, California.  Two of six prison yards are designated for the Insight Garden Program.  The first program was established at ASP in 2017 and a second program was established in 2018.  Calliope started as a volunteer in 2017 and became Program Manager of C Yard in 2018.  She describes the yard as initially having, "a few canna lilies and palm trees scattered sparsely around the yard, for the most part it is barren and dry.  It's a prison like you would envision any prison, with large metal gates, chain-link fences and razor wire sectioning off different yards".  The garden space is roughly 50 x 100 feet.  Before any plants could be added, the soil needed to be amended.  "During the first 6 months of our class, we brought in 25 tons of compost, straw, comfrey leaves, coffee grounds and bark and worked to build up the soil".  Today the garden contains a variety of drought-tolerant plants woven into a unique garden design created by class participants.
Insight Garden Program uses a holistic curriculum that nurtures both the inner and outer gardener.  The year-long program is facilitated in four learning arcs.   Participants work on their "inner gardener" through meditation, emotional processing and eco-therapy work.  This is combined with "outer gardener" activities such as garden design, permaculture gardening techniques, plant biology instruction and re-entry skills.  Calliope explains, "We spend a good deal of time talking about the circle of life, ecosystems and how every living thing affects everything on a large scale.  We are not individuals; we are all a part of everything.  The guys used this lesson in each aspect of the garden [design] and each area holds a special meaning".   The collaborative effort has resulted in a vibrant garden which includes, raised beds, a pathway bordered with wood rounds, a meditation circle, a dry riverbed, a yin-yang symbol and a flower garden in the shape of a snake (planted with New Gold Lantana and Myoporum and Echinacea eyes) waiting in the grass (Rush) for a bird to visit the bird garden (planted with Saliva, Ceanothus, Cistus and California Fuchsia).
"This is the first time I have touched a flower in 10 years.  I can't tear it apart it's too beautiful".  –  IGP participant, during a plant dissection activity.
The garden in C yard is located far from the visiting public. It is only accessible to program facilitators and participants, but its beauty reaches out to others.  "It is visible to everyone on the yard (staff, residents, etc.) but at this time, only participants in the class have [physical] access to the garden space.  We often have various people on the yard stop by and comment and interact with us through the fence.  The garden space is a visual focal point in the yard and even though there isn't access to be inside the space the beauty resonates through the fences".  The garden is also attracting other natural elements. "The purple Lantana blooms continuously and the garden is host to a variety of butterflies, moths, and insects.  A hawk visited our garden, eating a squirrel right on the garden…a very intense and symbolic experience".
As positive as this experience has been for Calliope, working within the walls of a prison presents unique challenges.  "The intensity of prison can be a very emotional experience. Remembering to take time for self-care and healing is crucial".  The rules and regulations at ASP must be strictly followed, without exception.  IGP facilitators must be patient, resourceful and innovative. "Building a garden in prison also brought in a new aspect of design and planting ideas.  Having to get approval for every single item, plant and material that goes in and that goes out is a lesson in organization and responsibility.  You can't just run to the hardware store if you don't have enough irrigation parts!"
Positive change and growth are at the core of IGP.  Calliope has observed dramatic transformations within the class participants.  "I never feel like I can adequately articulate the transformations, or the experience.  It's amazing, incredible to witness.  To watch them become comfortable in the class, to share, to relate their own lives to plants and nature…the whole thing is incredible!"
Calliope co-facilitates the program with a former inmate who served 25 years of a life sentence.  Seven of those years were served at Avenal State Prison.  Since his release Arnold Trevino has earned a master's degree in social work and holds a full-time position at Fresno State University.  Calliope has tremendous respect for Arnold and all he has accomplished despite the odds against him.  "They [the inmates] see themselves in him and see what they can achieve.  The two of us make an incredible team and it resonates with the participants".
There is of course, more to be accomplished in the field of prison rehabilitative reform.  One point is clear, programs that use nature and gardening as a therapeutic modality are cost effective, provide a pathway to emotional well-being and furnish job skills training for successful re-entry. Rikers Island Jail in New York has the oldest gardening program in the nation.  The "GreenHouse" at Rikers Island (https://www.htinstitute.org/2015-spring-newsletter/#warming-up-to-spring-at-rikers-island) began in 1997.  This program reports a 40 percent lower recidivism rate than the general prison population.  The Insight Garden Program at San Quentin Prison reports similar results.  Critics point to the fact that participants for horticultural programs are carefully chosen, those with a history of serious or violent crimes are not eligible.  Therefore, graduates of these programs are less likely to re-offend to begin with.
"Once they become comfortable and engage in the class, it is wonderful to watch them break through some tough exteriors.  We become a community… I would love to see an IGP class on every yard of every prison." -Calliope Correia IGP Program Director at Avenal State Prison
An unforeseen benefit is impact of the work on the individuals who facilitate gardening programs.  As Calliope reflects, "Through the work of IGP, I have also experienced my own transformation.  I have learned so much about the human experience and an even deeper understanding of the crucial importance of human beings to be connected to the natural world.  Together we have created something beautiful that doesn't just exist within the prison walls but carries into the outside world".
For more information about the Insight Garden Program-
http://insightgardenprogram.org/
A link to a short video highlighting Arnold's journey. https://abc30.com/localish/25-years-to-life-changed-former-prisoner-working-to-help-inmates-succeed/5606220/
References
Deady, Carolyn W. "Incarceration and Recidivism: Lessons from Abroad", Pell Center for International Relations and Public Policy, March 2014. Accessed January 8, 2020, https://pellcenter.org/new-report-incarceration-and-recidivism-lessons-from-abroad/
Schiffman, Richard. " The Secret Jailhouse Garden of Rikers Island", New York Times, October 4, 2019. Accessed January 8, 2020, https://www.nytimes.com/2019/10/04/nyregion/garden-rikers-island.html
Mercola, Joseph. "Real Rehabilitation-The Benefits of Organic Garden in Prisons" Wake up World, December 4, 2016 Accessed January 15, 2020, https://wakeup-world.com/2016/12/04/real-rehabilitation-the-benefits-of-organic-gardening-in-prisons/
By: Dr. Melissa Bezares- Hernández,
Clinical Psychologist at Albizu Clinic
Mayagüez, Puerto Rico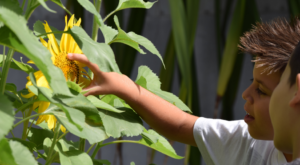 In this opportunity I would like to introduce Dr. Melissa Bezares- Hernández whom I met in November 2019 in Lima, Peru, and her practice in Puerto Rico.
During the month of November 2019, I had the great opportunity to begin my official training as a horticultural therapist at the Instituto de Horticultura Terapéutica in Lima, Peru.  This growth movement, for me as a clinical psychologist and as a person, means the constant affirmation that human beings must find or reconnect with their full consciousness in nature.  Since I began practicing psychology in Puerto Rico in 2006, I have been observing how clients react positively to exercises that connected them to their human nature. Something as simple as bringing the client to full consciousness of his breathing can make the client understand how it affects his mood, how his senses are activated, how he can gain self-control and self-regulation, leading him to establish significant changes in his life through the "simple" practice of breathing.
Psychology, as a young science, continues to advance and establish new methods of intervention. And like nature, it adapts to times, situations, and changes to improve quality of life. Nowadays there are new psychotherapeutic models, based on scientific evidence, that inspire me to recognize horticultural therapy as a valuable complementary method in psychotherapy. Both share the same approach: person-focused wellbeing, complementing each other and exploring the restoration of the individual's life. Horticultural therapy promotes the reconnection between the personal interior and the natural world, making the human being an essential part of the environment, both influencing each other in a reciprocal way. Seeing that this was essential to my practice as a psychologist, I began researching about Eco-psychology, with the intention of applying it in my practice. And what I got as a reward was the significant and lasting changes in my clients.
In private practice, I design treatment plans for impulse control, anger management and depressive symptoms, among others, assigning gradual exposure to different exercises such as: walks in the forest, walks on the beach, breathing exercises in green or natural places, sensory activation with natural elements, among other exercises which lead the client to a reconnection and understanding of his situation and finding solutions to his emotional problem.
As I looked at nature as an agent of change, I could recognize that the office space "behind closed doors" was not necessarily the best experiential environment for some clients, such as children and adolescents diagnosed with Autism Spectrum Disorder. Many of these neuro-diverse children reacted to immediate positive reinforcement and repetitions of a particular goal acquiring learning skills which they eventually incorporated into their daily life. The parents of these children, on many occasions, mentioned how difficult it had been in the past to take their children outdoors without being judged by others, or without having to help their children to self-regulate at any stressful situation that could affect their hyper-sensorial condition present in the natural environment.
In 2015, we developed a project we called "Renace" (meaning "re-born" in Spanish). This project provided eco therapy-based services for children with special needs and their families, integrating psychotherapeutic methods. As the first phase goals we established the implementation of therapeutic horticulture, which we called Agro therapy at that time. The goals were:
reduction of problematic symptoms
educate in sensory integration with natural elements
create a family therapeutic space where caregivers could learn, practice and give continuity to therapy in their homes
increase socialization
promote an environment of acceptance
empowerment
self-sustainability
An individualized treatment plan was developed for each program participant including an introduction on the nature of the treatment plan.  The treatment methodology used was implemented in a natural open space, with clients participating in their therapies in adjacent spaces. Through horticultural therapy we promoted not only self-growth and reconnection to Mother Earth, but we achieved established goals for everyone which surpassed our expectations. Participants were taught to appreciate nature, to be present, to activate their senses by exposing themselves to their sensory fears channeling their emotions, to express themselves and to identify their interests in the natural world acquiring new abilities.
As a result of this experience mental health was restored by integrating mind, body and natural environment for well-being and personal restoration in our participants. It was beautiful and magical to see how parents went from: "you know I haven't shared with outsiders for years", or  "the last time I took him to the park, other children's parents looked at me", or " I give him a pin that says I have autism every time we go out so they don't think I'm an irresponsible mother" to sharing and smiling with their children, with other parents, therapists, and other children. Parents exchanged experiences about their children, created a support network and enjoyed nature.
As a therapist it was very rewarding seeing children and adolescents improve their speech and language skills, socialization skills, sensory integration, memory and self-regulation. These outcomes were achieved thanks to two fundamental tools: a well-designed treatment plan and a good therapeutic approach. In spite of having the above-mentioned tools in my private practice, the Renace program had a key element: Nature! In nature children were able to feel the air that surrounded them (fresh or hot), feel and watch the rain falling down, hear the sound of different birds, discover bees and butterflies, smell marigold, basil, humid soil and enjoy the silence of the mountain. Nature in its simple daily expression taught us to be in the present moment and mindful of our surroundings.
It was interesting to see how human beings react in different ways to nature, some flow with it, while others allude to fear. However, nature does not judge, does no intentional harm, and in most cases generates good memories in a conscious or unconscious way. This experience became very clear to me, analyzing nature as an agent of change.
In 2017, hurricane Maria devastated our island, affecting thousands of families in a matter of hours. A natural disaster from which we have not yet recovered to date. However, the first thing we noticed was the rebirth and renewal of nature, providing us a sense of hope and a fresh start. I use this metaphor with a group of seniors or elders. These clients are currently living in a nursing home, many of whom had to move there after the hurricane. There were eight group therapy sessions based on Mindfulness-Based Intervention.  At the nursing home there are no gardens or places suited to their special needs, so I conduct mindfulness exercises using guided imagery as a tool, integrating nature as a metaphor and sensory stimulation. For example, one of the exercises is "the person under the tree" (Hayes et al.; 1999):
"Imagine you're sitting on the edge of a stream. You are sitting, enjoying a beautiful and relaxed day under a huge oak tree. It is autumn and you can see how many of its leaves fall and float over the waters of the stream. As you imagine it, I want you to pay attention to the thoughts you have at every moment. Notice the swing of thoughts like the leaves that come and go, and imagine that your thoughts are written on the leaves that float in the water. On one page you can say, "I'm doing well," and on another you can say, "today I'm tired." Regardless of the thought you have, visualize it on one of the leaves and keep an eye on it while it disappears, without pulling it or pushing it. At some point you may have the feeling that you are no longer exercising, that you are trapped in thoughts, rather than just watching them happen. When this happens, I want you to stop for a few seconds and see if you can reconnect with what you were doing just before the leaves stopped. Then go ahead, sit under the tree and put thoughts back on the leaves. Now I will remain silent as the process begins."
As I guide them in the metaphor, I introduce scents from natural oil extracts evoking the natural environment to produce changes of their emotional state, re-direct their thoughts and promote acceptance of the present moment.  With these exercises seniors reported a decrease in negative physical and emotional symptoms, and a sense of satisfaction.
Horticultural therapy and nature have positively affected these two inter-generational populations with completely different needs. This is why I invite you to observe, contemplate, be fully present in the moment and enjoy nature as the protagonist of change.
After practicing gardening as therapy since 2011 in a Rehabilitation Center in Lima, Peru I have become aware of two very important aspects of this practice: sensory stimulation and the use of metaphors, crucial for positive outcomes.
Gardening keeps our mind active; connects us with life cycles – birth, growth, death and regeneration become real events; allows us to use all of our senses to stimulate our body, mind and spirit – it's a 3D experience; heals our soul, liberates stress, exercises our body; stimulates our mind; moves our emotions; and changes our spiritual state.
Without doubt I can say that the sense of smell is powerful producing changes. At the Orphanage I have seen very agitated children calm down after smelling herbs – Melissa officinalis and Aloysia citrodora are the preferred ones. Smelling herbs also help me bring children to the present moment, before engaging in the planned activity.
Most of us grow up thinking we have five basic senses: smell, touch, taste, sight, and hearing. In the garden we become aware of many more, some of which I will mention here. One of them is the Sense of Control, especially important in hospital settings and with at risk children. When we are hospitalized, we lose control of everything: when to eat, when to walk, when to shower or use the toilet, and in some cases even deciding on our body's interventions. Horticultural therapy programs in hospital settings become crucial – plant based activities allow patients to take control of another living organism by deciding what to do with it, shift roles by becoming the caregiver, gain confidence, reduce fear, stress and anxiety, and be in the present moment and practice mindfulness. For a short period of time the patient takes control of his/her actions, producing positive outcomes in the patient's treatment.
When I work with at risk or institutionalized children, activities such as sowing seeds or seedling transplants or tending to a plant are important to regain the Sense of Control and structure which they not only enjoy, but request. These activities offer situations absent in their dysfunctional homes.
Gardening offers us a Sense of Place often lost in this world which spins around us without control,  and where we are controlled by time and technology. When I offer gardening workshops I am surprised by the fear some people have of plants: fear of killing them because of lack of "green hands" or fear of catching fungi. By the end of the workshop "magic" happens. Participants feel connected to something bigger, feel alive and become conscious of their place in the universe. After the workshop they talk about the "bond" that has developed between them and the plants they have adopted, plants become their friends and allies discovering a Sense of Comfort and joy by appreciating the germination or flowering processes or the birth of a new leaf, or even the presence of tiny visitors. At that point they understand that gardening rewards them with comfort, pleasure, satisfaction and meaning.
The other sense some discover or acknowledge for the first time in the garden is the Sense of Beauty. As the old saying states: "beauty is in the eye of the beholder". For some, beauty in the garden is in the scent of freshly cut grass, or a flower, or the sound of moving leaves, or the presence of butterflies indicating springtime, or the shapes and adaptations of cacti and succulents. There is always beauty in the garden.
In the garden we understand, maybe for the first time, the importance of the Sense of Self or wellbeing. In the garden our senses are stimulated in a matter of minutes without the need of external or artificial stimuli. Even if a person has lost one of their basic senses, the other senses compensate for that loss. A garden or nature offer sensory experiences which will never be achieved by the most sophisticated technology.
Metaphors, metaphors and more metaphors
 Metaphors are figures of speech used to make a comparison between two things that aren't alike but do have something in common. Metaphors are used in different scenarios and are employed in every type of therapy. In horticultural therapy practice I consider them of particular relevance. In the garden metaphors flourish. The use of a metaphor by the therapist
brings an alternative frame of reference to the client's situation. This may help the client view her difficulty in a new way such that she is able to alter her behavior.
A metaphor serves as a lens through which we look at a particular situation by embedding it within a second separate context which becomes the lens through which we are now able to see the original situation in a new light. Thus, the metaphor (or lens) retains its uniqueness and acts as a cognitive filter offering a new perspective on the original situation by emphasizing and de-emphasizing characteristics of the original situation (Belth-1977).
Metaphors help unlock the rigid thinking and behavioral patterns in which clients often engage.
Take as an example succulent plants. I use them to explain to participants the way in which these plants have developed adaptive mechanisms which allow them to thrive in harsh environments, such as: low growth rate; leaves covered by a layer of wax or hairs or white dust or transformed into spines for water conservation; small leaves to reduce transpiration; plants are usually small growing at ground level, with few stems and compacted leaves around the main stem. In our lives we will go through difficult periods of time but as succulent plants teach us, we can develop survival mechanisms and thrive in difficult times. When a succulent leaf is detached from the stem it touches the soil and develops a survival mechanism: roots grow at the base of the leaf and gives birth to a new independent plant which uses the water storage of the leaf dehydrating it completely for its survival. This example helps participants understand life cycles of death and birth as well as coping mechanisms.
Plant soil mix is used as a metaphor to help participants understand the importance of preparing a "good foundation" for optimal growth and development. A good plant substrate   contains soil which gives structure to the plant, compost or humus to provide nutrients and microorganisms, sand which allows water to flow through the soil, and peat moss which retains water, provides organic matter and prevents compaction. Similarly, humans need a "good foundation" – balanced nutrition, education, moral values, mental and emotional health and love – for optimal growth.
Sowing seeds provide a good metaphor when working for example with substance abuse populations: "sow the seed of your new life".
Weeds are fast growing plants usually considered undesirable because they deplete the soil from nutrients needed for desirable plants – a weed is "a plant in the wrong place". These plants are used as metaphors, especially when working with at risk youth to teach them that they need to set apart from their lives people who absorb their energy, negative people, in order to grow. Similarly, when working with people with depression or anxiety or mental fatigue we compare negative thoughts to weeds that need to be "cleared" in order let air or oxygen in,  have a clear mind and move forward.
Plant maintenance is very useful to teach about "equilibrium". Understanding plants' needs through maintenance – soil aeration, light, water, removal of dead leaves, pruning, nutrition and pest control – serves as a metaphor to permanently find equilibrium in our personal lives, in everyday life: good nutritional habits, hydration, sunlight, good mental and physical health.
When we tend a vegetable garden, some plants, like tomatoes or peas need support or a "tutor" which help them attain maximum growth. The metaphor is that sometimes we also need a "tutor" to guide us and show us the way.
The list of metaphors from the garden is infinite! I carry a "metaphor diary" to keep track of all of them.
Blog 3 Sensory stimulation and metaphors in the garden
Recently while working with a group of 6th and 7th graders in a middle school greenhouse, I overheard a conversation between two students. The group was engaged in a transplanting project using common house plants. One student was berating the other because he was not being gentle enough and she thought he was "hurting the plant!" Her fellow student replied that "plants don't have feelings" so his actions were acceptable.  I intervened at this point and asked the other students to weigh in on the disagreement by asking the group "Do you think plants have feelings?" The response was broad, with several disinterested students shrugging their shoulders, while others became quite passionate about the subject. This led me to explore the questions, do plants have feelings and how could this be verified?
As horticultural therapists we often speak of plants using descriptive words like; resilient, adaptable and renewable. Humans have always been in awe of a plants' ability to survive and even thrive in harsh environmental conditions. To illustrate this point, consider how humans have always had the advantage of movement to benefit their survival. Historically, when environmental conditions become problematic, humans have had the advantage of picking-up and moving to a more optimal space. Plants on the other hand are rooted in place, they must solve rather than avoid, whatever problem their environment presents. Succulents like cacti, aloe and agave are an example of plants that have developed the ability to store water in fleshy leaves and roots, thus allowing them to survive in arid conditions. But how does a plant become resilient without the aid of a central nervous system? Are their actions/reactions to their environment the result of some sort of awareness or thought process?
More than two decades ago, Suzanne Simard, a professor of forest ecology at the University of British Columbia, brought forth a radical idea… trees can actually "talk" to one another. In her research, Simard describes a cooperative underground fungal communication system. Through this system of roots, mycorrhizal fungi and bacteria, trees can send warning signals of an oncoming threat, share nutrients and even search for their offspring within a community.  Simard compares this communication system to the neural networks in the human brain. She successfully experimented with radioactive isotope carbon to demonstrate how a paper birch (Betula papyrifera) and a Douglas fir (Pseudotsuga menziesii) were utilizing this underground network. It appears that Simard's research proves that trees can send out information and provide nutrients, to benefit other trees within the network.
In a later experiment, the mycorrhizal network was mapped or diagrammed, showing that a few of the older trees with larger root systems had stronger connections within the network than some of the younger trees. The older trees with the stronger connections were named "Mother trees". The mother tree sends carbon through this network, to certain seedlings, which will increase the survival of those seedlings by four times. It was also found that mother trees will create stronger networks with their own kin.  This research is evidence that the mother tree is selecting which seedlings to nurture.
Simard uses terms like "Mother tree" and "forest wisdom" in her research for the purpose of making it more relatable to the general public. "If we can relate to it, then we're going to care about it more. If we care about it more, then we're going to do a better job of stewarding our landscapes." It is Simard's opinion that if too many mother trees are lost to insects, disease or human interference, the mycorrhizal network will collapse, resulting in forest deterioration.
One other piece of research implies, that plants can develop a "stress memory". In other words, plants can recognize and will react to, certain stimuli perceived as dangerous, while other stimuli will not produce a reaction. This research was conducted by Stefano Mancuso, a neurobiologist at the University of Florence in Italy.  In his book The Revolutionary Genius of Plants, Mancuso describes an experiment he conducted using Mimosa pudica or sensitive plant.  I use Mimosa pudica frequently when working with special needs students.  They are always delighted to see the plant respond to their touch by closing its leaves.
The purpose of Mancuso's experiment was to demonstrate that Mimosa pudica could identify whether a certain stimulus was dangerous or not and respond accordingly. This was accomplished by simply placing jars containing the plants on an apparatus that produced a sudden drop in height of approximately four inches. In the first trial, all plants reacted immediately by closing their leaves. Yet, after repeated drops, the plants stopped reacting to the stimulus and leaves remained open. To quantify this finding, the same plants were then introduced to a new stimulus, shaking the jars in a horizontal motion. This change resulted in the immediate closing of leaves. Mancuso claims that his experiment proves the ability of Mimosa pudica to learn whether a certain stimulus was dangerous and had developed stress memory. Moving forward with his research, Mancuso asked the question "how long will this memory last?" Using approximately one hundred plants that had been trained using the drop method, he periodically tested the group using the same stimulus. To his surprise, the stress memory lasted up to 40 days. Mancuso states that his research does not determine how Mimosa pudica develops stress memory only that it is possible. He believes further studies are needed in the field of epigenetics to fully explain this phenomenon.
These two research studies are just a small representation of the work being conducted world-wide regarding plant behavior and intelligence. The question of "do plants have feelings?" has been debated by humans for centuries.  Of course, there are those who strongly disagree with the idea of plant intellect, stating that plants can evolve and nothing more. What is undeniable is the fact that people and plants have had a symbiotic relationship that has endured throughout time. Without this relationship humans would not exist…but the plant world would not only survive but would thrive.
References
Mancuso, S. (2017). The Revolutionary Genius of Plants; A New Understanding of Plant Intelligence and Behavior. New York, New York: Simon & Schuster.
Toomey, D. (September 1, 2016). Exploring How and Why Trees 'Talk' to Each Other.       YaleEnvironment 360. Retrieved from: https://www.e360.yale.edu/features/exploring_how_and_why_trees_talk_to_each_other
In January 2019 I met Cecilia Viteri from Guayaquil, Ecuador. She was on a short trip visiting Lima, Peru. We organized a small gathering to share our experiences using plants to help people recover their well-being. I would like to share with you her story.
One year before I begun my internship for my Clinical Psychology degree, I started gardening edible plants to improve my physical health during my pregnancy. My father and my husband, both agricultural engineers, supported my initiative, which I believe reconnected me with nature in many ways.
It was not until I started interviewing patients at a psychiatric hospital in Guayaquil where I work, that I became aware of all the benefits horticulture could bring to our health.
Most of the patients come from rural areas in Guayaquil where agriculture is the main economic activity. At the hospital I noticed patients had very few activities during the day, while recovering from their mental health crisis, and that most of them had been hospitalized several times. The main cause of their mental health crisis was unemployment. The spare time, lack of opportunities, stigma and other social factors led them to substance abuse and other harmful behaviors. Here is when I identified the need and importance of an occupational program (vocational) in horticulture that would serve as a tool for acquiring social and horticultural skills, as well as helping them in their recovery process.
As soon as I identified that horticulture could be used as a tool to treat different symptoms, I started doing research. My studies in psychotherapy techniques gave me the necessary perspective to understand the needs required in a horticultural therapy program. I immediately started learning about horticultural techniques, occupational therapy and agriculture. Additionally, I learned about the American Horticultural Therapy Association (AHTA) and the Horticultural Therapy Institute (HTI). My research, training, personal experience and clinical practice, laid the groundwork for the creation of the Horticultural Psychotherapy Program "Mi Semilla" at the Instituto de Neurociencias de Guayaquil.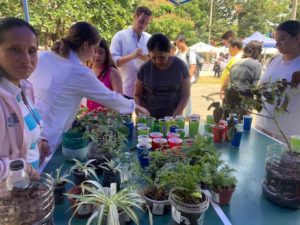 The program was developed by clinical psychologists with an emphasis in teaching horticulture skills to patients, as well helping them recover their well-being (physical, cognitive, emotional and social), through a holistic approach. We use diagnostic tests to validate our outcomes, supported by the complex thinking paradigm. This represents a new approach in which the patient with a psychiatric diagnosis benefits from horticultural therapy and psychotherapy in the recovering process.
This program was developed in collaboration with a colleague of mine, Juan José Cobo. The program improves patient's physical and cognitive functions, channels their emotions and improves their social skills which will allow them to be less isolated from society. The long-term goal of this program is to train patients in productive skills until they are discharged from the psychiatric hospital.
Our program started in November of 201 and during the first year we developed and applied the methodology to patients with diverse diagnosis. In the second year we received economic support from Guayaquil's Municipality, institution that still supports us. Since 2018 to date, our mental health program based in gardening has become the only psychological assistance that abandoned patients have received in many years.
In our program, psychologists apply different techniques in order to reduce symptoms and obtain treatment adherence. Activities such as soil aeration or plant transplanting help patients recover their physical status. We also encourage them to eat more vegetables to improve their nutritional habits.
Patients come to our program from four different areas with three different categories:
a) patients with depressive disorders and suicidal attempt;
b) patients living in residencies, mostly abandoned people with psychotic symptoms;
c) patients from the "Centro de Superación Integral", a center which assists ambulatory patients in process of social and labor inclusion.
Our horticultural therapy program is managed by two clinical psychologists and is divided in two separate parts:
Planned therapeutic sessions which focus on individual patient symptoms and issues.
Group sessions for patients with the same diagnosis.
We have developed a scale based on patient functionality and an observation chart to record each patient's level of participation in every session. The scale evaluates patient´s initiative, teamwork, activity accomplishment, commitment, comprehension, dissociation, motor skills, impulse control, emotional liability and memory.
The other part of our horticultural therapy program is focused on horticultural technique training. I have developed a learning methodology called "The seven elements of the garden". This methodology allows patients to improve cognitive functions such as memory, concentration, attention span, and acquire abilities needed for the learning process. To improve social and communication skills they produce vegetables. They learn to interact with each other and follow and respect social norms. We organize different events where they can sell plants. The money earned is used as a reward for their effort. These events help patients apply personal selling strategies and management techniques.
We have also identified the need to reinforce some values in our patients – nature and gardening serve as a tool to achieve this goal. Some of the values are: environmental awareness, discipline, perseverance, tolerance and stand up against any kind of discrimination.
For our evaluations we use different tools. NEUROPSI (neuropsychological test) is the tool used to evaluate patients' cognitive level, and PANSS scale (Positive and Negative Syndrome Scale) is used to identify the presence of positive and negative symptoms in schizophrenic patients.
Our program serves also as a training platform for university students coming from different fields such as: psychology, agriculture and communications. These students come to the program to teach our patients organic techniques used in horticulture and selling strategies. These students benefit from this experience by working with people with mental health problems who must deal not only with their illness but with societal issues such as discrimination.
Finally we have participated in campaigns to raise awareness of the stigma in our society towards people with mental health issues. We have organized talks and conferences in universities, social and environmental foundations, hospitals and high schools. "Mi Semilla" also receives support from other organizations like The Complex Psychology Association, the UEES University and the Institute of Neuroscience of Guayaquil.
Up to now we have served 400 hospitalized patients and more than 2.000 people indirectly. Our outcomes have been very positive in rehabilitating abandoned patients.  Our next goal is to process the data we have recorded in the past 3 years in order to develop a standardized program which could be used in other mental health institutions.
By Cecilia Viteri (Horticultural Therapy Institute student)
A few years ago, it became obvious that I was in dire need of a career change.  I followed my heart and enrolled in the horticulture program at a local community college.  One of the program requirements was to complete a summer internship between the first and second year.  I had the good fortune to serve my internship at a vocational training greenhouse for adults with special needs. Over that summer I acquired a great deal of practical skill from the program director, a man with 25+ years of experience in the field of horticulture.
Learning from others in your chosen or a related field, who have advanced knowledge and/or a different approach has great value.  We, as horticultural therapists, are educated and encouraged to modify interventions to an individual's specific needs in order to produce the best possible therapeutic outcome.  Therefore, we can take a specific intervention that has proven successful with one population and modify it to be successful with another population.
Of course, staying abreast of current and new information, research and technique is essential in any patient-centered practice.  The real challenge is to find legitimate and attainable information sources.  Earlier this year a new horticultural therapy textbook was published.   The Profession and Practice of Horticultural Therapy is edited
by Rebecca Haller, Karen Kennedy and Christine Capra. They also contribute by authoring various chapters throughout the book. It is the first major textbook dedicated to the practice of horticultural therapy in 21 years.
The previous textbook, edited by Sharon Simson and Martha Strauss, was published in 1998.   Horticulture as Therapy, Principles and Practice has long been considered a leading resource for those with an interest in practicing horticultural therapy and therapeutic horticulture.  Simson and Strauss provide a comprehensive overview of the theories and principles of horticultural therapy, but due to the evolution and advancement of the profession over the past two decades much of the information presented is considered antiquated by today's standards.
The Profession and Practice of Horticultural Therapy was written to provide a foundation for developing a therapeutic approach to an individual rather than to present practice guidelines.  Although, the textbook is directed toward students, it serves to provide understanding and a base for education within a wide range of health care professions.  The three women who conceived this text have a wealth of experience and all are leaders in the field of horticultural therapy today.  Yet, they chose to enhance their own experiences and knowledge with input from many others, those within the horticultural therapy world and from supporting human service professions, to produce a truly unique and valuable resource.
The textbook is organized into four sections; an overview of the horticultural therapy profession, theories supporting horticultural therapy use, models for programs and tools for the therapist.  Each individual section includes several chapters.  The chapters are all authored by a different professional.  This approach was adopted to illustrate the broad reach of horticultural therapy today.  The chapters cover a wide range of topics.  For example, section one includes an introduction to the profession, section two examines the people-plant relationship and much more, section three provides guidance for programming and section four instructs the reader on how to implement the necessary tools to conduct a successful practice.
The information is presented in a concise and relatable fashion and is adaptable to most horticultural therapy practices.  In addition, each chapter includes exhibits, tables and photos where the reader is invited to explore a wide range of programming examples from the perspective of the practitioner. These components were added because "the editors recognize that there is considerable overlap among populations in horticultural therapy within each of the models of practice".
Personally, I found the program examples in each chapter to be of great interest.  Each exhibit highlights a current practice, therapeutic technique, or perspective. This material is relatable and relevant to today's HT practitioner.  Reading how and why certain interventions were employed made me realize that I could take this information and modify it to enrich my own practice.  There is also a list of key terms and a reference list included at the end of each chapter to enhance a deeper understanding of the materials presented.  The resources included in section four, "Tools for the Therapist, is collection of the nuts and bolts type of information every horticultural therapist should have on hand.
It has been my experience that the very best way to gain a deeper understanding of new techniques, research and skills, is to learn from another's perspective and collected wisdom.  The information you gather from such interactions will be of great benefit as you move forward in your career.  The Profession and Practice of Horticultural Therapy offers the reader this unique experience.   The textbook will not only educate those with a budding interest in horticultural therapy and support those actively practicing HT but will also serve to provide the groundwork for future research that will in turn enhance momentum within our profession.
New Blog Writers Introduced
HTI would like to introduce and welcome it's two new blog writers, Daniela Silva-Rodriguez Bonazzi, from Peru writing this month about the introduction of HT in her home country and covering in the future international HT.  Her co-writer is Colleen Griffin, HTR, from Maine who will be writing on a variety of topics with a focus on the US.
By Daniela Silva-Rodriquez
My relationship with plants started at the age of eight.  After abruptly loosing my father from an aneurysm, I found solace in my grandmother's garden.  There were so many species of plants and flowers in that 64,000 square foot garden! Soon I started learning their names and surnames, as well as their preferences. I was marveled by the forms, textures and smells of leaves and flowers, which inspired me to bring nature into the house creating flower arrangements for every room in our house.  But the biggest pleasure for me was watering the plants, seeing the leaves without a trace of dust and the smell of moist soil!
Time went by and it was clear to me I had to make my career in a plant related field.  I studied Biology and Environmental Science at American University in Washington D.C. When I came back to Peru I got my first job at the International Potato Center as a scientific assistant and at the same time studied for a Master's Degree in Plant Breeding.
After 6 years of lab work I started a company dedicated to produce salad greens for supermarkets in Peru. For the following 25 years I acquired knowledge and experience in agriculture, integrated pest management, good agricultural practices and quality assurance. But my love for plants was too strong so I kept my connection with them through landscaping projects.
In 2010 I discovered the practice of horticultural therapy! I contacted the Horticultural Therapy Institute and my journey to attain a certificate in horticultural therapy started. I got my Certificate in 2016.
Between 2011 and 2013 I started a small program in a rehabilitation center for substance abuse (cocaine, marijuana and alcohol) and depression patients. Ages ranged mainly from 14 to 30.  During that short period of time I evidenced the power of plants in changing people's lives, especially in two patients. One male patient, aged 30, diagnosed with severe depression.  The first time I met him he made no eye contact and answered with monosyllables. Three weeks after attending the program he was a completely different person: he's eyes sparkled, he asked for tasks and was eager to learn more gardening techniques. After discharge he started a plant business abroad, shifting interests from economics to plants.
The other patient was an 18 year-old female, diagnosed with depression and marijuana consumption. After 6 months attending the HT program with mood swings and self-injuries, I noticed something she did to the plant she had adopted which made me think something really serious was going on with her. This was a turning point in her treatment: she could finally talk about what was really troubling her.
These two experiences made me realize I wanted to dedicate the rest of my life helping people through one of my passions: plants.
Between 2014 and 2017 I have been raising awareness about the benefits of HT in people's well-being through workshops and short period programs for specific groups such as children with cancer or burned children.
Raising awareness in a country where a career in horticulture does not exist and where many professionals dislike to be taken out of their comfort zone is difficult but not impossible. It takes time to make them understand that horticultural therapy is their ally, that gardening activities serve as a tool to facilitate their job. We have to use the most valuable attribute gardeners have: patience.
In October 2018 I was commissioned the design of a healing garden and a HT program for an orphanage in Lima, Peru. It was a big challenge due to the conditions of the site, which was a complete wreck (see pictures) and the budget was limited. After 4 months of planning and brainstorming the design was ready. The implementation took place in April of this year. A crew of 130 young volunteers were in charge of planting, painting walls, creating a water feature and a green wall, removing stones and decorating, under my direction. The job was done in 5 days. The garden was baptized by the institutionalized children as the "Dream Garden".
One week later we started working with 40 institutionalized children, ages between 5 and 14. The frequency of our program, is twice a week. Working with institutionalized children is a huge challenge. Most of the children have been separated from their parents due to physical and/or psychological abuse. This situation has produced severe emotional and behavioral issues in the children. The healing garden's main goal is to help them channel those emotions: anger, fear, sadness, aggressiveness, lack of attention, and disruptive behavior through love and nurture.
After the first chaotic session in which we worked with groups of 10 children every 30 minutes for 2 hours we decided to restructure the dynamic for the following session. We needed to teach the children there were "garden rules" that needed to be followed and we needed to "calm" them before offering the planned activity. Garden rules were established by all of them and were then printed in a big banner. We read them at the beginning of each session. To "calm" their spirits, we use a breathing technique, which brings them to the present moment, listen to instructions and metaphors and engage with the planned activity in a "calm" mode. Aside from these two strategies, we have set up 4 separate tables which help us work with smaller groups.
In every session we have a "plan B" for those children who will not engage with the activity from the beginning. This "plan B" consists in creating herb bouquets. Stimulating the sense of smell, especially in children with these characteristics has a powerful effect as well as working the soil.
Several weeks have gone by and we are starting to see results: children are calmer, proud of their work in the garden and are starting to show the same love and respect towards plants that we do. Some of them are even proud of showing their siblings that same love and respect. They know their "Dream Garden" is a non-threatening environment, where they feel safe. Children are becoming aware of the powerful effect of gardening as a tool to channel their emotions.
Now that we have introduced the children to the garden, our next challenge is to create willow tepees for siblings to "cultivate" a relationship among them. The willow tepee will symbolize their "home", a safe place surrounded by plants which they will learn to nurture with love.