By Susan Morgan
Photos courtesy of Abby Jaroslow, HTR
Patients and staff at MossRehab in Philadelphia have been overheard, saying "Everything I know about plants, I learned from Abby." They're referring to Abby Jaroslow, HTR, who leads MossRehab's Horticultural Therapy program. Moss Rehab is rated one of 10 top rehabilitation hospitals in the United States and number one in Pennsylvania by U.S. News and World Report, MossRehab brought Abby on board when it expanded its Horticultural Therapy programming and space in 2014. Today, she works with individuals recovering from spinal cord injury, traumatic brain injury, stroke, amputation, and other medical conditions in inpatient and outpatient capacities. Her current work is the culmination of a personal and professional journey combining her passions for the outdoors and people in healthcare settings.
An Eye for Detail, A Heart for People and Plants
With an extensive background in historic preservation, architecture, and public art, Abby began her career working on large scale public sculptures in California. She eventually moved to New York City to work in materials conservation and landscape restoration on public environmental and parks development projects at South Street Seaport, Riverside Park, and Central Park, among others.
During this time, her young daughter had a serious illness and developed complex medical needs. Abby was introduced to Horticultural Therapy (HT) when her daughter was receiving treatment at Rusk Institute of Rehabilitation Medicine at NYU Langone Medical Center. Though they never participated in the Horticultural Therapy (HT) program at Rusk, they became familiar with the therapeutic concept and frequented the former Rusk glasshouse and gardens, enjoying the respite the green space provided.
Years later, when her daughter moved on to a progressive residential school, Abby went back to work in historic preservation, working on a landscape project. "It got me back into thinking about gardens," she says. "That was awesome." She reflected on how much she enjoyed the outdoors over an office job. When the architecture and preservation job market suffered during the 2009 financial crisis, Abby took this time to reflect on future career aspirations. While looking through the educational program catalog from the New York Botanical Garden one day, she noticed their courses in Horticultural Therapy, and "a bell went off in my head." This field combines her interests in plants and gardens with her passion for working with people in health care. She went back to school, earning a certificate in ornamental horticulture and taking courses in Horticultural Therapy at Rutgers University and the Horticultural Therapy Institute. "What I loved about the courses at the Institute was the diversity of students and their various backgrounds. Rebecca Haller brings in so many different and interesting guest speakers," she says. She liked how horticultural therapists use a range of skills in their work, which appealed to her varied background.
"A Dream Come True"
Abby completed her HT internship at Rusk, under the mentorship of Nancy Chambers, HTR, and Gwenn Fried. She worked with children in the brain tumor program, where her daughter had been treated. "I had come full circle," she says. "Since I got into HT, I have had these moments that tell me this is where I am supposed to be." After her internship, she worked with older adults at a continuous care community in Philadelphia, with Peg Schofield, HTR, and then Ruth McCarthy, as well as an independent practitioner at various elder care facilities, and with Pat Czarnecki, HTR,. She soon heard about the new position at MossRehab through colleagues and a job posting on the Mid Atlantic Horticultural Therapy Network website…"my dream job."
The Alice and Herbert Sachs Therapeutic Conservatory at MossRehab
MossRehab opened the Alice and Herbert Sachs Therapeutic Conservatory in April 2014. Built in an underutilized outdoor courtyard in a central location, the conservatory is a glasshouse with a headhouse occupying approximately three-quarters of the original courtyard space. It has an automated system with fans, misting system, sun shades, and windows that open and close based on the glasshouse's temperature and humidity. An adjacent intimate outdoor courtyard space features a wooden pergola, picnic tables, basketball hoop, plantings in raised beds and containers, a redbud tree, and evening lighting.
The conservatory is divided into three elements featuring "Show, Grow, Work" spaces.
The "Show" space is located at the front of the glasshouse and designed to be a respite for families and patients. This green oasis includes a water feature, green wall, tropical plants, seating and other elements made of natural materials, and evening lighting. Music plays softly, reinforcing this space's relaxed mood.
The "Grow" space is the "working" greenhouse room in the middle of the glasshouse, where Abby hosts group HT activities. During the planning phase, Abby considered furnishing this space with traditional greenhouse benches but determined these would create a mobility challenge for patients using wheelchairs. So she decided on a large worktable in the center of the room and stepped greenhouse shelving around the perimeter.
The "Work" space in the headhouse at the back of the conservatory is utilitarian in nature. It serves as her office space, workroom, and storage area.
The conservatory and courtyard are frequently used by patients, family members, staff, and other visitors to the hospital for special events and daily respite. "People are coming and going from this space all the time," says Abby.
Horticultural Therapy Programming at MossRehab
When implementing the new Horticultural Therapy program at MossRehab, it was very important to Abby to develop a good working relationship with the physicians, therapists, and other clinical team members. Horticultural Therapy is part of an active and collaborative Recreational Therapy department, and Abby credits this team of Certified Recreational Therapists with helping integrate HT into the hospital's services. She also developed a PowerPoint presentation on how HT can be used in a clinical setting and regularly speaks to various clinicians, including physicians and nurses at MossRehab , as well as other interested groups.
Abby spends 60% of her time in direct patient contact and 40% in completing clinical notes and office work, consulting with staff, and overseeing the garden and greenhouse spaces. Each week, she works with nine groups in HT programs. She leads a group session every afternoon Monday through Friday in the conservatory. Groups range in size from three to nine participants and include patients from all units with a range of cognitive and physical abilities. Therapists and other staff may attend and work one on one with a patient during these sessions. Abby also leads an outpatient group one day a week for 90 minutes. The outpatient group meets for a four week session, starting at the beginning of each month. Once a week, she works with patients in the Comprehensive Rehab unit. She goes to the unit to work with individuals who are recovering from amputations and orthopedic procedures or who have complex medical conditions. Twice a week, she works with patients on the Traumatic Brain Injury unit for two 30 minute sessions. These sessions focus on increasing attention span and involve drop-in activities that can take five to 20 minutes to complete. They also serve as a good way to involve family members and show them how the HT program works. The rest of her time is spent working with patients individually and in co-treats with other therapists.
HT Activity: Story Sticks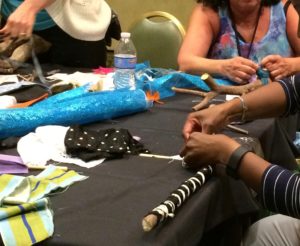 A favorite activity involves making story sticks, which are reminiscent of totem poles. Supplies include an assortment of fabric scraps and yarn, along with sticks she cuts and gathers in the woods, with a ½ to 1" diameter and two feet long. To start, she places the materials on the table in front of a group. Noting the various nodes and marks on the sticks, she encourages participants to "find a stick that speaks to you and use the fabric materials to wrap the sticks while telling a story, either personal or fictional."
Abby describes this process as feeling like that of quilting bee where individuals sit together, conversing and creating community through creative endeavor. She tells the group about how Oriental rugs are made by communities of weavers. If a mistake is made, the weavers weave that into the rug, showing that each individual, with their gifts as well as their flaws, contribute to the beauty and strength of a community. Participants are invited to share their creations and stories with the group, or not. "The projects have been fascinating and beautiful," says Abby. "Horticultural Therapy is like magic. You can physically see anxiety levels decrease and breathing improve."
Additional resource: Stick art sculpture, National Museum of Australia