By Susan Morgan
Kaifa Anderson-Hall can share countless experiences of the meaningful impact that plants and horticultural activities have had on those she has served over the course of her thirty-plus year career throughout the greater Washington, D.C., area. As a social worker, Kaifa worked for several years in school counseling. Even then, her love for plants was prominent. She became known as the self-described "plant person" within the schools where she worked, and students often asked her if they could help her water indoor plants or tend the school's garden. "I noticed how these activities could be used as a behavior management tool," she says. "Taking care of plants helps teach responsibility, and I could attach a few goals for a student to work on during a certain task." During this time, Kaifa learned about the field of horticultural therapy (HT) through programs and meetings conducted by the local HT professional chapter at the time, reinforcing how she might use plants more in enhancing students' functioning.
One Plant at a Time
Eventually Kaifa made a career shift, taking on the role as program director of the Washington Youth Garden, which has operated for forty seven years on the grounds of the United States National Arboretum. There, she worked directly with urban youth in horticultural programming for six years and witnessed the impact of horticultural experiences on young people's behavior, notably through one example of a third grade participant in the Youth Garden's Garden Science program early in her tenure (and prior to the program's facilitation of school gardens). At the end of the program season, each student received a small potted Chinese evergreen (Aglaonema) plant to take home to nurture. Rather than taking the plant home, this student kept his plant at school, taking care of it in the classroom. The following year, at the start of the new Garden Science season, the student recognized the Youth Garden team proceeding to the activity space and asked his teacher if he could show them his plant. Not only had the plant tripled in size, thanks in large part to the young student's determination and efforts, but his teacher reported that the student took great pride in taking care of the plant and encouraged his classmates to do the same. She noted that his behavior and overall interactions between other students had significantly improved. "One plant transformed both the student and the entire class!" says Kaifa. "My experience [at the Washington Youth Garden] was invaluable, allowing me to witness firsthand the varied nature and impact of plant- and garden-based interactions, which would inform my HT pursuit."
"Find Your Place in the Profession…"
When Kaifa transitioned from the Washington Youth Garden, she sought out volunteer opportunities as she assessed next steps in her professional path. She was led to Melwood, one of the longest serving non-profit organizations that supports people with differing abilities. She first learned of the organization many years prior, as it was a regular meeting site for the local HT professional chapter at the time. While working at the Youth Garden, Kaifa also noted the regular visits Melwood groups made to the National Arboretum. She immediately connected with the late Sheila Gallagher, the horticultural therapist and former director of horticulture programs, at Melwood. Kaifa attributes her decision to pursue horticultural therapy to Sheila and her invaluable mentorship. "The best advice Sheila gave me was to find your place in the profession and grow it from there."
Building Community Relationships and Awareness
This advice has stayed with Kaifa as she now works as an independent contractor, providing services to a variety of populations, including veterans, older adults in memory care and assisted living communities, and differently abled adults and youth in community gardens. She also works in partnership with allied professionals, non-profits, and community organizations to grow awareness and advance the profession. "It's like evangelistic work to bring about better awareness of the benefits of the people-plant connection as realized via the practice of horticultural therapy."
Kaifa serves on several advisory committees, including the Washington Youth Garden and the DC Office of the State Superintendent's School Garden Advisory Council. She is working in the context of these long-standing relationships to expand the role of school gardens, beyond STEM and nutrition education, to include therapeutic application in social-emotional learning and trauma care. Through her work with older adults at Seabury Resources for Aging's Center for the Blind and Visually Impaired and several day programs, she has cultivated a working relationship with the executive director who has seen firsthand the impact of Kaifa's plant-based experiences with participants, and is excited about Seabury's vision and future plans in determining how HT can be integrated more in its service delivery and embraced by other agencies throughout the DC region. Check out Kaifa's interview with Deborah Royster, CEO of Seabury Resources for Aging. Kaifa also continues her work with Melwood, in collaboration with the current manager of HT, in establishing robust community-based HT partnerships and programming for adults with differing abilities.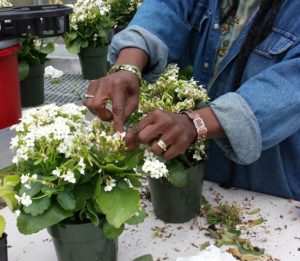 In early 2018, Kaifa was recognized with the Horticultural Therapy Award by the American Horticultural Society. Quick to acknowledge that she has benefitted from all those past and present in the profession, she says the award is a tribute to the collective vision and years of practice, education, and research that have defined the present state of the profession, where she feels she has a place to root and shine the light. "The award comes with great responsibility. I'm committed to that."