In January 2019 I met Cecilia Viteri from Guayaquil, Ecuador. She was on a short trip visiting Lima, Peru. We organized a small gathering to share our experiences using plants to help people recover their well-being. I would like to share with you her story.
One year before I begun my internship for my Clinical Psychology degree, I started gardening edible plants to improve my physical health during my pregnancy. My father and my husband, both agricultural engineers, supported my initiative, which I believe reconnected me with nature in many ways.
It was not until I started interviewing patients at a psychiatric hospital in Guayaquil where I work, that I became aware of all the benefits horticulture could bring to our health.
Most of the patients come from rural areas in Guayaquil where agriculture is the main economic activity. At the hospital I noticed patients had very few activities during the day, while recovering from their mental health crisis, and that most of them had been hospitalized several times. The main cause of their mental health crisis was unemployment. The spare time, lack of opportunities, stigma and other social factors led them to substance abuse and other harmful behaviors. Here is when I identified the need and importance of an occupational program (vocational) in horticulture that would serve as a tool for acquiring social and horticultural skills, as well as helping them in their recovery process.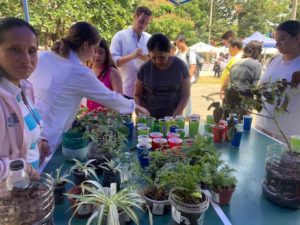 As soon as I identified that horticulture could be used as a tool to treat different symptoms, I started doing research. My studies in psychotherapy techniques gave me the necessary perspective to understand the needs required in a horticultural therapy program. I immediately started learning about horticultural techniques, occupational therapy and agriculture. Additionally, I learned about the American Horticultural Therapy Association (AHTA) and the Horticultural Therapy Institute (HTI). My research, training, personal experience and clinical practice, laid the groundwork for the creation of the Horticultural Psychotherapy Program "Mi Semilla" at the Instituto de Neurociencias de Guayaquil.
The program was developed by clinical psychologists with an emphasis in teaching horticulture skills to patients, as well helping them recover their well-being (physical, cognitive, emotional and social), through a holistic approach. We use diagnostic tests to validate our outcomes, supported by the complex thinking paradigm. This represents a new approach in which the patient with a psychiatric diagnosis benefits from horticultural therapy and psychotherapy in the recovering process.
This program was developed in collaboration with a colleague of mine, Juan José Cobo. The program improves patient's physical and cognitive functions, channels their emotions and improves their social skills which will allow them to be less isolated from society. The long-term goal of this program is to train patients in productive skills until they are discharged from the psychiatric hospital.
Our program started in November of 201 and during the first year we developed and applied the methodology to patients with diverse diagnosis. In the second year we received economic support from Guayaquil's Municipality, institution that still supports us. Since 2018 to date, our mental health program based in gardening has become the only psychological assistance that abandoned patients have received in many years.
In our program, psychologists apply different techniques in order to reduce symptoms and obtain treatment adherence. Activities such as soil aeration or plant transplanting help patients recover their physical status. We also encourage them to eat more vegetables to improve their nutritional habits.
Patients come to our program from four different areas with three different categories:
patients with depressive disorders and suicidal attempt;
patients living in residencies, mostly abandoned people with psychotic symptoms;
patients from the "Centro de Superación Integral", a center which assists ambulatory patients in process of social and labor inclusion.
Our horticultural therapy program is managed by two clinical psychologists and is divided in two separate parts:
Planned therapeutic sessions which focus on individual patient symptoms and issues.
Group sessions for patients with the same diagnosis.
We have developed a scale based on patient functionality and an observation chart to record each patient's level of participation in every session. The scale evaluates patient´s initiative, teamwork, activity accomplishment, commitment, comprehension, dissociation, motor skills, impulse control, emotional liability and memory.
The other part of our horticultural therapy program is focused on horticultural technique training. I have developed a learning methodology called "The seven elements of the garden". This methodology allows patients to improve cognitive functions such as memory, concentration, attention span, and acquire abilities needed for the learning process. To improve social and communication skills they produce vegetables. They learn to interact with each other and follow and respect social norms. We organize different events where they can sell plants. The money earned is used as a reward for their effort. These events help patients apply personal selling strategies and management techniques.
We have also identified the need to reinforce some values in our patients – nature and gardening serve as a tool to achieve this goal. Some of the values are: environmental awareness, discipline, perseverance, tolerance and stand up against any kind of discrimination.
For our evaluations we use different tools. NEUROPSI (neuropsychological test) is the tool used to evaluate patients' cognitive level, and PANSS scale (Positive and Negative Syndrome Scale) is used to identify the presence of positive and negative symptoms in schizophrenic patients.
Our program serves also as a training platform for university students coming from different fields such as: psychology, agriculture and communications. These students come to the program to teach our patients organic techniques used in horticulture and selling strategies. These students benefit from this experience by working with people with mental health problems who must deal not only with their illness but with societal issues such as discrimination.
Finally we have participated in campaigns to raise awareness of the stigma in our society towards people with mental health issues. We have organized talks and conferences in universities, social and environmental foundations, hospitals and high schools. "Mi Semilla" also receives support from other organizations like The Complex Psychology Association, the UEES University and the Institute of Neuroscience of Guayaquil.
Up to now we have served 400 hospitalized patients and more than 2.000 people indirectly. Our outcomes have been very positive in rehabilitating abandoned patients. Our next goal is to process the data we have recorded in the past 3 years in order to develop a standardized program which could be used in other mental health institutions.
By Cecilia Viteri (Horticultural Therapy Institute student)