By: Dr. Melissa Bezares- Hernández,
Clinical Psychologist at Albizu Clinic
Mayagüez, Puerto Rico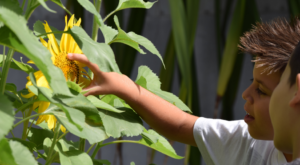 In this opportunity I would like to introduce Dr. Melissa Bezares- Hernández whom I met in November 2019 in Lima, Peru, and her practice in Puerto Rico.
During the month of November 2019, I had the great opportunity to begin my official training as a horticultural therapist at the Instituto de Horticultura Terapéutica in Lima, Peru. This growth movement, for me as a clinical psychologist and as a person, means the constant affirmation that human beings must find or reconnect with their full consciousness in nature. Since I began practicing psychology in Puerto Rico in 2006, I have been observing how clients react positively to exercises that connected them to their human nature. Something as simple as bringing the client to full consciousness of his breathing can make the client understand how it affects his mood, how his senses are activated, how he can gain self-control and self-regulation, leading him to establish significant changes in his life through the "simple" practice of breathing.
Psychology, as a young science, continues to advance and establish new methods of intervention. And like nature, it adapts to times, situations, and changes to improve quality of life. Nowadays there are new psychotherapeutic models, based on scientific evidence, that inspire me to recognize horticultural therapy as a valuable complementary method in psychotherapy. Both share the same approach: person-focused wellbeing, complementing each other and exploring the restoration of the individual's life. Horticultural therapy promotes the reconnection between the personal interior and the natural world, making the human being an essential part of the environment, both influencing each other in a reciprocal way. Seeing that this was essential to my practice as a psychologist, I began researching about Eco-psychology, with the intention of applying it in my practice. And what I got as a reward was the significant and lasting changes in my clients.
In private practice, I design treatment plans for impulse control, anger management and depressive symptoms, among others, assigning gradual exposure to different exercises such as: walks in the forest, walks on the beach, breathing exercises in green or natural places, sensory activation with natural elements, among other exercises which lead the client to a reconnection and understanding of his situation and finding solutions to his emotional problem.
As I looked at nature as an agent of change, I could recognize that the office space "behind closed doors" was not necessarily the best experiential environment for some clients, such as children and adolescents diagnosed with Autism Spectrum Disorder. Many of these neuro-diverse children reacted to immediate positive reinforcement and repetitions of a particular goal acquiring learning skills which they eventually incorporated into their daily life. The parents of these children, on many occasions, mentioned how difficult it had been in the past to take their children outdoors without being judged by others, or without having to help their children to self-regulate at any stressful situation that could affect their hyper-sensorial condition present in the natural environment.
In 2015, we developed a project we called "Renace" (meaning "re-born" in Spanish). This project provided eco therapy-based services for children with special needs and their families, integrating psychotherapeutic methods. As the first phase goals we established the implementation of therapeutic horticulture, which we called Agro therapy at that time. The goals were:
reduction of problematic symptoms
educate in sensory integration with natural elements
create a family therapeutic space where caregivers could learn, practice and give continuity to therapy in their homes
increase socialization
promote an environment of acceptance
empowerment
self-sustainability
An individualized treatment plan was developed for each program participant including an introduction on the nature of the treatment plan. The treatment methodology used was implemented in a natural open space, with clients participating in their therapies in adjacent spaces. Through horticultural therapy we promoted not only self-growth and reconnection to Mother Earth, but we achieved established goals for everyone which surpassed our expectations. Participants were taught to appreciate nature, to be present, to activate their senses by exposing themselves to their sensory fears channeling their emotions, to express themselves and to identify their interests in the natural world acquiring new abilities.
As a result of this experience mental health was restored by integrating mind, body and natural environment for well-being and personal restoration in our participants. It was beautiful and magical to see how parents went from: "you know I haven't shared with outsiders for years", or "the last time I took him to the park, other children's parents looked at me", or " I give him a pin that says I have autism every time we go out so they don't think I'm an irresponsible mother" to sharing and smiling with their children, with other parents, therapists, and other children. Parents exchanged experiences about their children, created a support network and enjoyed nature.
As a therapist it was very rewarding seeing children and adolescents improve their speech and language skills, socialization skills, sensory integration, memory and self-regulation. These outcomes were achieved thanks to two fundamental tools: a well-designed treatment plan and a good therapeutic approach. In spite of having the above-mentioned tools in my private practice, the Renace program had a key element: Nature! In nature children were able to feel the air that surrounded them (fresh or hot), feel and watch the rain falling down, hear the sound of different birds, discover bees and butterflies, smell marigold, basil, humid soil and enjoy the silence of the mountain. Nature in its simple daily expression taught us to be in the present moment and mindful of our surroundings.
It was interesting to see how human beings react in different ways to nature, some flow with it, while others allude to fear. However, nature does not judge, does no intentional harm, and in most cases generates good memories in a conscious or unconscious way. This experience became very clear to me, analyzing nature as an agent of change.
In 2017, hurricane Maria devastated our island, affecting thousands of families in a matter of hours. A natural disaster from which we have not yet recovered to date. However, the first thing we noticed was the rebirth and renewal of nature, providing us a sense of hope and a fresh start. I use this metaphor with a group of seniors or elders. These clients are currently living in a nursing home, many of whom had to move there after the hurricane. There were eight group therapy sessions based on Mindfulness-Based Intervention. At the nursing home there are no gardens or places suited to their special needs, so I conduct mindfulness exercises using guided imagery as a tool, integrating nature as a metaphor and sensory stimulation. For example, one of the exercises is "the person under the tree" (Hayes et al.; 1999):
"Imagine you're sitting on the edge of a stream. You are sitting, enjoying a beautiful and relaxed day under a huge oak tree. It is autumn and you can see how many of its leaves fall and float over the waters of the stream. As you imagine it, I want you to pay attention to the thoughts you have at every moment. Notice the swing of thoughts like the leaves that come and go, and imagine that your thoughts are written on the leaves that float in the water. On one page you can say, "I'm doing well," and on another you can say, "today I'm tired." Regardless of the thought you have, visualize it on one of the leaves and keep an eye on it while it disappears, without pulling it or pushing it. At some point you may have the feeling that you are no longer exercising, that you are trapped in thoughts, rather than just watching them happen. When this happens, I want you to stop for a few seconds and see if you can reconnect with what you were doing just before the leaves stopped. Then go ahead, sit under the tree and put thoughts back on the leaves. Now I will remain silent as the process begins."
As I guide them in the metaphor, I introduce scents from natural oil extracts evoking the natural environment to produce changes of their emotional state, re-direct their thoughts and promote acceptance of the present moment. With these exercises seniors reported a decrease in negative physical and emotional symptoms, and a sense of satisfaction.
Horticultural therapy and nature have positively affected these two inter-generational populations with completely different needs. This is why I invite you to observe, contemplate, be fully present in the moment and enjoy nature as the protagonist of change.